Just published!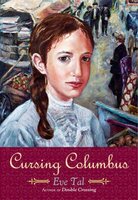 Cursing Columbus, the sequel to Double Crossing is now out and available from Cinco Puntos. Follow the suspenseful adventures of Raizel and her brother Lemmel in America. Will Raizel be able to remain in school and fulfill her dream of becoming a teacher? Will she find her first love again? 
And what will become of Lemmel? Can he survive as a newspaper boy or will he succumb to the lure of crime on the  streets of New York?
Is this the America they have dreamed of?  For more information and to order: click here.
Awards
Cursing Columbus is a finalist for the National Jewish Book Awards in the Childen's and Young Adult Literature category! Click here for the complete list.
Cursing Columbus was chosen as a Sydney Taylor 2010 Notable Book for Teen Readers by the Association of Jewish Libraries! Click here for the complete list.
Double Crossing won The Paterson Prize for Books for Young People given by the Poetry Center at Passaic Community College in the grades 7 - 12 category!
Double Crossing was chosen for a 2006 Skipping Stones Honor Award in the category of  Multicultural and International Awareness Books.
Browse the Award List.
Double Crossing Made Booklist's Top 10 First Novels for Youth 2005!

In Memorium

It is with deep sorrow that I learned of the death of Susan Klahr of El Paso, Texas. Although I never met Susan, she created the original cover paintings for both Cursing Columbus and Double Crossing.  For more about Susan and her art, see the Memorial Article from the El Paso Times. 
NOW OUT IN PAPERBACK!
Double Crossing, a work of historical fiction, describes the adventures of Raizel as she travels to America in 1905. Raizel's crossing reveals a little known side to the immigrant story. Read more about Double Crossing.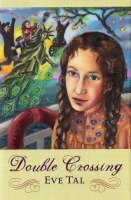 For Homework Help
Eve has provided an added bonus for anyone seeking information on topics related to Double Crossing. The sections on Jewish History and Jewish Traditions concisely cover these subjects for those unfamiliar with them. In the section on Anti-Semitism you will find a discussion of the roots of anti-Semitism and different manifestations. Folktales will help you understand how folktales differ from other types of stories like fairytales, legends, and myths. Learn what characterizes a folktale and how folktales have traveled around the world. The Annotated Bibliography of Children's Fiction about the Holocaust will help you select a book to suit your interests.
New at Homework Helper: 
Eve's Annotated Bibliography of Children's Fiction about the Middle East Conflict provides a view from both sides.
Eve's Hebrew Books
Why do I write in Hebrew? How does Hebrew differ from English? Read (and order) my Hebrew children's books.
Picture Book in English and Hebrew
Eve's Hebrew picture book A New Boy has been published in an English edition from the Milk and Honey press.

Learn more about A New Boy and order.
The Teachers Guide to Double Crossing is now available. The guide includes general topics for discussion as well as historical background, a glossary of terms, comprehension questions, and a wealth of activities for students. 
Download your copy here.
Author Visits
I am available for video and in-person author visits to schools, conferences and workshops. Please  to discuss details. 
Eve's article on adapting stories from the oral tradition appears in Exploring Culturally Diverse Literature for Children and Adolescents: Learning to Listen in New Ways by Darwin L. Henderson and Jill P. May.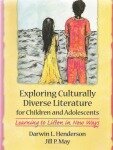 My Scholarly Side
In addition to writing children's books, I write critical papers on various topics in children's literature, with a specialty in the Holocaust in children's literature. Read more about my presentations and papers, including downloads.
First Opinions - Second Reactions: Reviews of Recent Children's and Young Adult Literature

is a brand new online journal published by Purdue University. The journal will provide a forum for teachers, scholars and students to intergrate exciting new titles into their curricula or scholarly works. It also creates a dialogue between reviewers and teachers who can react to reviews after introducing the material in their classrooms.
The first issue contains a brief article by Eve on international children's literature as well as two in-depth reactions to Double Crossing.
Read First Opinions - Second Reactions at : http://docs.lib.purdue.edu/fosr/